Work has been ongoing over the years, transforming the heritage building, Gertrude Lawson House, to a flexible and multi-use gallery and exhibition space. RATIO planned and transformed the stone-clad house into a modern gallery space over the years,  in collaboration with the  West Vancouver Historical Society .
The West Vancouver Museum is housed within the Gertrude Lawson House,  a registered heritage building in West Vancouver.   It has housed the museum since 1994 and in that time, it  has been home to a number of contemporary exhibits, artists works and workshops that help  youth learn and explore art and design.
RATIO's  latest small project for the museum is a contemporary twist on the existing building. The need for archival storage is increasing and providing a new space on an existing balcony also serves as a beacon to the public. The copper clad form  follows the existing slate tile roof line using patinated bronzed copper. The materials will immediately stand out against the house and provide a welcome and contemporary expression for this fantastic community museum.  Worth a visit!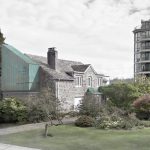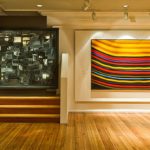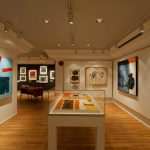 More about Gertrude Lawson House in West Vancouver:  Statement of Significance – Gertrude Lawson House – history
A few more of RATIO's heritage projects:
Stay connected with RATIO:  Sign up for  RATIO news > LinkedIn > Twitter