FOUR RATIO STORIES WE ARE PROUD TO SHARE:
Our name is grounded in the importance of relations and relationships in our work. Between a building and its environment. Between citizens and structures. Between our firm and our clients. How do we live and breathe the RATIO story? On every project, we bring distinctive thinking, rigorous creativity, and a progressive approach.
ALDERGROVE PORT OF ENTRY: The new Aldergrove Port of Entry in Langley, BC is  now  complete. The new $17 million dollar port began construction in the fall of 2014. It replaces the old port building and includes full commercial and domestic crossing facilities. RATIO is proud to have been the Design Architect and Coordinating Registered Professional  for the project and many other ports across British Columbia.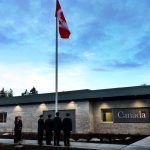 More on the border crossing project here.
RATIO LED PROJECT GARNERS LEED PLATINUM FOR VANCITY: Congratulations to Vancity for their first LEED Platinum for Commercial Interiors for their Mount Tolmie community branch in Victoria on Vancouver Island. RATIO acted as the prime consultant and was responsible for the planning and design of the of the 5000 square foot space. This project was another opportunity for Vancity to build a healthy, productive, community-minded space with a reduced environmental footprint. We are our proud that our work on Vancity's Mount Tolmie branch resulted in a LEED Platinum for Commercial Interiors rating.
NEW CREDIT UNION BRANCH CONCEPT HELPED DRIVE STRONG FINANCIAL RESULTS: RATIO designed a forward-thinking branch concept for the fast-growing First West Credit Union family of brands. Our solution features open, engaging branch spaces that promote staff interaction and personal service. The design platform also introduces subtle aesthetic cues to emphasize regional environmental and local demographic differences, while maintaining a consistent functionality across the branch system—ensuring that First West's members enjoy the same excellent experience in every branch.
This statement was released by First West:
"Staying true to its commitment to innovation and simple, advice-centred banking, First West Credit Union made substantial investments in its branch network in 2014. The credit union's new concept branch achieved strong financial results since its opening in late June of last year. Located in Chilliwack's Garrison Crossing neighbourhood and run under First West Credit Union's Envision Financial division, the branch gained more than 540 net new members, achieved 180% of its non-interest income target and 170% of its insurance revenue target in the first six months of operation."
See more of our work for First West Credit Union's family of brands and other credit unions.
SUBURBAN INFRASTRUCTURE ENHANCES COMMUNITY SETTING: Buildings housing necessary infrastructure, are an important aspect of how our communities function. Increasing density, and spreading suburban communities puts infrastructure in our neighborhoods where we live, work and play.  Although not public, these facilities are a visible part of the landscape and community. As such, they are deserving of attention to detail. RATIO's  Brawn Water Pump Station project  in Langley, BC is a practical and beautiful example of how infrastructure can co-exist in our communities. See our Brawn project file here.
BEST WISHES FOR A GREAT 2016!
We look forward to the ongoing collaboration with our clients. After decades in architecture, interior design, and planning, we've learned that outstanding work is built on relationships.  For us, real success is the moment when a client is presented with a design solution and says, "We did it."
On behalf of the whole team at RATIO, we look forward to contributing to your success. Thank you for a terrific 2015 and we look forward to working with you in 2016.
Chris, Mike, Tom & Michael