Mark Hamilton Architect AIBC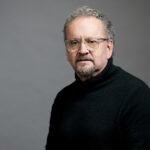 We are pleased to announce that Mark Hamilton Architect AIBC has joined Chris Pollard as principal and partner of RATIO Architecture, Interior Design & Planning Inc. Already a valuable part of the team, Mark has worked along-side and led architecture projects with RATIO for over 2 years.
Chris Pollard, Managing Partner: "Mark brings diverse project experience from over 30 years in architectural practice. As a wonderful communicator, team builder and collaborator he adds depth to our practice. I look forward to working with Mark to continue the RATIO tradition of distinctive thinking, rigorous creativity and a progressive approach to every project. Mark and I have collaborated from day one and share the view that our success is built on the long-term relationships we build with our clients and colleagues and in doing our part to build more sustainable and equitable communities."
Mark Hamilton is a creative problem-solver, highly skilled and well-versed in modern, sustainable construction methodologies. His design experience both overlaps and complements RATIO's growing portfolio. Mark has worked on large infrastructure projects and has shared some clients with RATIO in the past including BC Hydro and UBC.  He brings considerable expertise in school projects, both K-12 and Post Secondary Educational Facilities, Scientific Research Facilities including private and public laboratories, and multi-unit residential high-rise projects.
Mark shares thoughts about life at RATIO: "I feel especially inspired by the RATIO team, the diversity of projects we work together on, and our shared values. We are truly a team.  Other firms talk about collaboration, support and the integration of Architecture and Interior Design disciplines, RATIO is that."
Mark is known to many in the Architecture community for his time as a Practice Advisor with the Architecture Institute of BC. He has also volunteered on numerous AIBC committees including Investigations, Experience Review and Remedial Review Panel.
Contact Mark at RATIO: 604-682-6881, email or connect with him on LinkedIn.