The RATIO-designed  Kanaka Creek Watershed Stewardship Centre in Maple Ridge will be complete and open April 30, 2017.
Kanaka Creek in Maple Ridge is a beautiful, natural setting, home to an abundance of native plants and wildlife like herons, tailed frogs and bears. This venue will be dedicated to education, stewardship and community engagement in one of the most ecologically diverse parks in the Metro Vancouver region.   This unique campus design will incorporate the existing Bell-Irving Hatchery, a stewardship building and the unique outdoor learning environment offered by Kanaka Creek Regional Park and its ecosystems.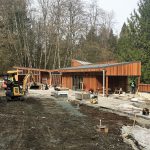 A campus-like setting that touches the ground lightly
This project, a continuation of the  Bell Irving hatchery, explores the site in ways not previously done. The stewardship centre, a $1.1-million project, complements the new hatchery which was built in 2013. RATIO's design creates a campus-like setting where connectivity and circulation of the spaces are outdoors while minimizing the building footprint and impacts of site development in this delicate watershed. Partially funded by the local community, the Centre is designed as a replicable model for watershed stewardship, sustainability, education and grassroots engagement. Learn more about our work on the Watershed Stewardship Centre here.
Opening celebration April 30
Metro Vancouver and Kanaka Education & Environmental Partnership Society are presenting the annual 'Goodbye Chums'  release and Stewardship Centre opening celebration on Sunday, April 30, 2017 from 11am – 3pm.  This is an all ages event with an opportunity to release salmon fry, live music and activities for everyone.
Stay connected with RATIO:  Sign up for RATIO news > LinkedIn > Twitter