Relocated Vancity Chinatown Community branch reflects the diverse community it serves.
Vancity's Chinatown community branch relocation and renovation was a multi-year project, undertaken with the intent to respectfully reflect Chinatown's history, social identity, values and community aspirations. The approach to the project was both thorough and collaborative to ensure the new Chinatown branch would serve the neighbourhood's diverse and robust community now and in the years to come.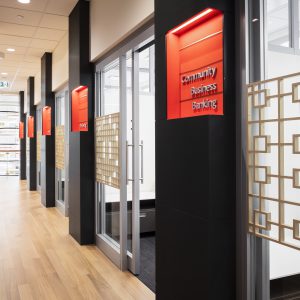 RATIO's role:
As prime consultant, our RATIO team was responsible for the planning and design of this tenant improvement project.  Working with the Vancity team and other consultants, we assessed present and future business requirements. Considerations included the needs of Vancity staff, members, the surrounding community, day to day operations and security.
Vancity's key considerations for design principles:

Respectful reflection of Chinatown's history, social identity, values and community aspirations

Branch layout and design incorporating Feng Shui

Present and future business requirements

A healthy, efficient and sustainable workplace to meet LEED v4 CI Silver

Accessible design and services for members and staff

Highlight artistic and community design elements
With the goal to achieve a Silver LEED v4 Commercial Interior certification project, the space meets design criteria from healthy building materials to advanced energy metering and water conservation.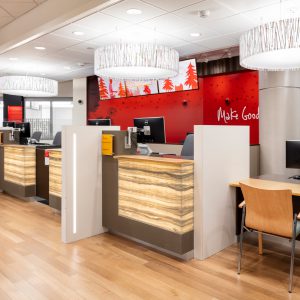 Branch design decisions inspired by  Chinatown's community heritage:
This new location incorporates specialized, large scale feature elements that reflect the vibrant and diverse community in which the branch is located. Unique within Vancity's branch network is the 2nd-floor location of the Chinatown branch. With its 26' high open and spacious entryway, the interior design embraces natural light and circular shapes acknowledged in both Indigenous cultures and Feng Shui principals. Branch design decisions embodying Feng Shui principals include guardian features at the entrance, a carefully considered branch layout, moving water features on the first and second floor, plants within the branch décor and a circular shaped light feature in the lobby area.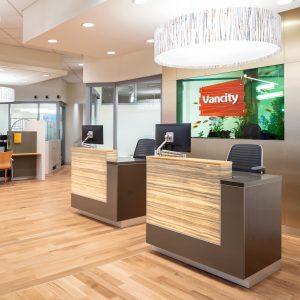 Site details:

2nd Floor, an area of approximately 5,500 square feet.

750 sq. foot entrance lobby

Total area renovated 6,250 square feet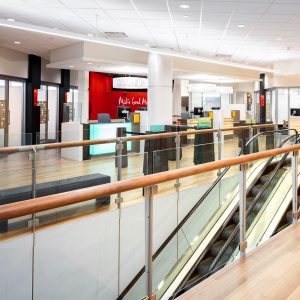 Vancity and LEED:
The new branch is striving for silver level in a LEED v4 CI Certification (Leadership in Energy and Environmental Design (LEED) version 4 commercial interiors). LEED is a globally recognized rating system used to evaluate the environmental performance of a building which encourages healthy, efficient and sustainable buildings. Certification includes several categories including design, construction, material selection, post-construction, energy and water use, air quality and integration of LEED components into the business culture.
Vancity incorporates many of the recommended LEED components as standard practice. Water, energy and waste are considered in terms of efficiency, consumption and disposal. Materials are selected and integrated based on whether they are local and sustainable. The environmental qualities of the branch interior are also addressed to facilitate and support well-being for both staff and members. These qualities include the presence of natural light, plants, ambience and indoor air quality meeting a high standard for wellness.
Other elements included in the new branch that align with Vancity's leadership efforts in sustainable and healthy work environmental design include an EV charging station for staff use, thermal zoning in staff offices, water efficient plumbing and networked energy use monitoring, all LED lighting throughout the branch, bicycle racks, staff shower facilities, internal recycling management with a zero-waste strategy for staff in work environments. While decommissioning the past branch, old office furniture was also donated to the new tenant, who is investing in the preservation of Chinatown's history and culture.
RATIO works with Vancity on all branch projects, delivering effective workspace planning and retail design solutions.  In recent years, we've worked with Vancity on a number of branches that have achieved LEED ratings including Lynn Creek in North Vancouver, Burnaby Heights, Maillardville, Mt. Tolmie and Shaughnessy Station in Port Coquitlam.
Stay connected with RATIO:  Sign up for  RATIO news >  Twitter >  LinkedIn