Design decisions for new or revamped retail banking branches must certainly support service delivery, operational strategic goals and brand values.
A branch design plan should also address the challenges of the modern office with consideration for the tension between public and private workspace. This means creating space for collaboration while allowing for focused, task-oriented space. Consider how to control visual and acoustic distractions, and accommodate for a diverse workforce and customer base.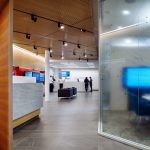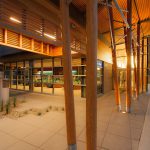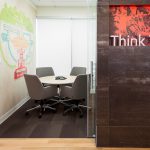 See all our Financial Institution design work here.
Retail banking design decisions must meet the challenges financial service organizations face to align new or revamped branches with brand, values, service and trust.
18 retail banking design trends:
1. Client-focused; to meet expectations of different customer segments
2. Flagship hubs supported by more smaller locations
3. Locally inspired design references
4. Healthy workplaces from ergonomics to finishes
5. Natural colours, light, materials
6. Space for community
7. Space for private, high-value transactions
8. Open, inviting, social
9. Accommodation for focused work
10. Reinforce brand values
11. Embrace technology in-branch; connecting the digital banking experience with in-branch
12. Better utilization of existing space
13. Adaptable, well-laid out workspaces
14. Acoustical barriers
15. Meeting space, right-sized
16. Range of workspace options for employees
17. Provide customers with different areas to interact
18. Inspire community, business and individuals
Over the last several years at RATIO, we have focused our attention on how we can help our clients plan spaces that will adapt to future needs to reflect changing retail financial service models and workplace design. We will continue to see an unprecedented change in the way we work as a result of many factors including larger socio-economic shifts, changing age demographics, rising real estate costs and the need to build a more sustainable future. We work with our financial service clients to ensure that their retail branches and workspaces are healthy, productive and inspiring; and will be easily adaptable to changing needs. See our Distinctive Thinking piece on how branch design helps deliver on brand promise, and high value transactions.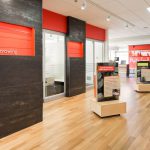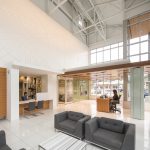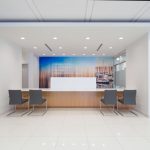 RATIO has deep expertise in working with financial institutions. Our team has provided architectural, interior design and planning services to credit unions for over 50 years.  Recent and ongoing projects include: integrated consulting on all Vancity branches, Island Savings Branch of the Future, award winning design on the downtown branch of Salmon Arm Savings & Credit Union, refresh of Greater Vancouver Community Credit Union's brand and branch template,  and the forward-thinking branch concept  for First West Credit Union through their Envision Financial brand.  Contact Christopher Pollard for more information about RATIO's work.