Transformation of the Branch's Role From Transacting to Advising
Although the trend to online banking would indicate a move away from the physical branch, we see quite the opposite. The branch network and individual "store" is still an essential channel for high-value financial services engagement. With a customer-centric approach to support relationship building, retail branch design is transforming the banking experience. With a nod to other experiential transactions like enjoying a beverage in a coffee shop, visiting the bookstore or attending a seminar, in-branch banking today is friendly, customer-centric, open and inviting.
Design decisions in new or revamped branches must do two things well: 1) Clearly communicate the organization's overarching ethos and services and 2) build trust by understanding and reflecting local values.
Here are 3 RATIO projects that illustrate the way that branch design meets strategic goals:
       1.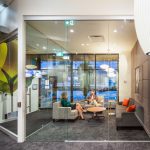 2.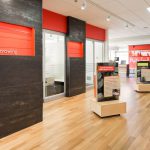 3.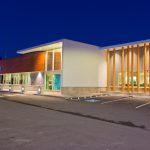 1.   A community credit union was looking to update and expand their presence. Community Saving's small branch tactic is part of the answer for the financial institution's growth strategy to reach more members over a greater geography. Smaller branches in more locations allow for increased branding, service, cost-savings and member accessibility.
2.   Canada's largest credit union, Vancity, achieved LEED Platinum for a new branch on Vancouver Island. RATIO acted as the prime consultant and was responsible for the planning and design of the of the 5000 square foot branch. Reflecting Vancity's commitment to community, environmental stewardship and healthy living, the Mount Tolmie branch offers a high-performance green interior that is a healthy, productive place to work with a reduced environmental footprint.
3.   A flagship main branch for a regional credit union, Integris, provides the community with an all-in-one financial services centre.  The extensively renovated old commercial building, approximately 9000 sqft, provides Integris with a highly visible location that links the primary retail banking, insurance and wealth management services with professional support and community space.
These three branch design projects are vastly different, but each achieves specific strategic goals.  Common to all three are the same challenges; how to be customer-centric, space efficient, distinctive, and community-minded.
RATIO has deep expertise in working with financial institutions. Our team has provided architectural, interior design and planning services to credit unions for over 50 years.  Recent and ongoing projects include: integrated consulting on all Vancity branches, Island Savings Branch of the Future, award winning design on the downtown branch of Salmon Arm Savings & Credit Union, refresh of Greater Vancouver Community Credit Union's brand and branch template,  and the forward-thinking branch concept  for First West Credit Union through their Envision Financial brand.  Contact Christopher Pollard for more information about RATIO's work.