LEEDv4 registered Commercial Interior project
Vancity's new Maillardville branch reflects this credit union's commitment to community and sustainability.   RATIO acted as the prime consultant and was responsible for the planning and design of this unique tenant improvement project. As a LEED v4 registered Commercial Interior project, the space meets design criteria from healthy building materials to advanced energy metering and water conservation.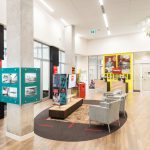 Site challenges lead to opportunities
Relocated from a temporary location just down the street, the new branch with 25-foot ceilings and 2 separate entrances, provided unique planning challenges. RATIO worked with Vancity during lease negotiations to determine the overall suitability and to ensure the Landlord's work was completed to its satisfaction.
Early on in the process, RATIO highlighted an opportunity to create a mezzanine level within the double-height retail space. This achieved two things:  1) Created additional office space to accommodate a busy and growing branch and  2) Incorporated the entry stair into the mezzanine design creating an elegant organizing feature in the members' area.  The branch, open since  September, is distinctly Vancity, featuring a living wall, a natural-light filled high ceilinged member hall, a community room, member-focused offices and a reclaimed wood platform seating tier.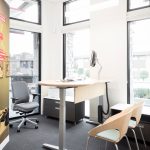 Design decisions for the  Vancity tenant improvement project to achieve LEEDv4 certification included:
Lighting – All LED lights with a central control system, lighting controls for every workstation/teller and private office.

Furniture – Flexible meeting table, desks with adjustable heights.

Natural light and reflective surfaces –  full height glass walls along south-facing windows,

Air quality – Highly efficient VRF air conditioning system with central controls, providing monitoring for outdoor air intake.

Conservation of water and energy –  through the use of high-efficiency fixtures and appliances.
The Maillardville branch:
6100 square feet over two floors
Located at 101-969 Brunette Ave, Coquitlam BC
Learn more about RATIO's work on  Vancity's LEED projects.
RATIO works with Vancity on all branch projects, delivering effective workspace planning and retail design solutions.  In recent years, we've worked with Vancity on a number of branches that have achieved LEED ratings including Lynn Creek in North Vancouver, Burnaby Heights,  Mt. Tolmie and Shaughnessy Station in Port Coquitlam.