The new Aldergrove Port of Entry in Langley, BC  is nearing completion. The new $17 million dollar port began construction in the fall of 2014. It will replace the old port building and include full commercial and domestic crossing facilities. Completion and full operation is expected towards the end of 2015. RATIO is proud to have been the Design Architect and Coordinating Registered Professional  for the project and many other ports across British Columbia. RATIO is a design leader in some of our country's most important public institutions and facilities.
Above is an early rendering of the hall in the main port building. The photos below show the progress  on the interior and exterior of the Main Port Building: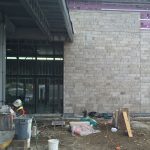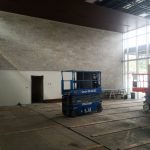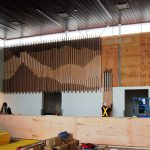 What's interesting about Tyndall Stone?
The rock is famous for its cream colour (limestone) with its pervasive coloured mottling (dolomite), caused by the burrowing of marine creatures when the limestone was deposited. Its light brown colour, beauty and strength sets Tyndall Stone apart as an  ornamental building stone. You will see it in many cities in Canada including the Parliament Buildings in Ottawa and  the Canadian Museum of Civilization in Gatineau.
For more information about this project contact Micheal Mamonne,  mikem@thinkratio.com
Stay connected with RATIO:  Sign up for  RATIO news > LinkedIn > Twitter