Congratulations to Tamara Vrooman and the Vancity team for their Rick Hansen Foundation gold certification for accessible design.
"The Rick Hansen Foundation is pleased to announce Vancity credit union has become the first financial institution in Canada to receive the 'Accessibility Certified Gold' rating under the Rick Hansen Foundation Accessibility Certification™ (RHFAC) program. Both the Burnaby Heights Community branch and Vancity Centre, one of the credit union's office locations in Vancouver, have been certified gold.
Read Vancity's media release here
Vancity has taken steps to remove barriers and improve accessibility for the hundreds of employees and members who enter these buildings daily. Vancity's Burnaby Heights Community branch has a broad range of accessibility features including:
Fully accessible Automated Teller Machines (ATMs) that include grab bars, knee clearance for chair users, accessible buttons, and plugs for head phones;
Power doors in all entrances;
Contrasting colour flooring and walls for improved wayfinding;
A lowered teller counter with a hearing induction loop for employees and members; and
Accessible washrooms with inclusive signage"
For more on the Rick Hansen Foundation Accessibility Certification™ program, please visit: www.rickhansen.com/RHFAC
Vancity is a nation-wide leader in sustainability, inclusion and accessibility. We are proud to have a role in Vancity's commitment to inclusion and accessibility. Their brand values, goals and aspirations for community good drive design decisions in every Vancity branch we complete. Accessible design is one important factor in credit union branch design, creating a path to positive relationships between customers and their financial service provider.
A partner who shares the same values and vision, Ratio has been working with Vancity for over fifty years, providing integrated consulting and design services across their business. We are responsible for the planning and design of all new and renovated Vancity branches and offices, ensuring that every space respects its context and location while staying true to the credit union's brand values. In addition, we consult on operational models, brand and identity integration, considerations around prospective markets, sustainability issues and accessibility initiatives.
See more of RATIO's work for Vancity
Vancity leading the way, Ratio leading the team: LEED v4 Commercial Interior project
Stay connected with Ratio:  Sign up for  RATIO news >  Twitter >  LinkedIn
Recently,  members of the RATIO team joined other companies and their staff from the Architecture and Interior Design community to create a holiday crafting event for children. Over 250 kids participated; the room was buzzing with creativity in the tw0-hour event.
RATIO participated with teams from BYU Design, CEI / HDR, Contemporary Office Interiors, DWR, Herman Miller, Kasian,  NLA, Omicron, Perkins+Will,  Smart Design Group, SSDG, Stantec and  ZAS.  Each team supplied the materials and set up a craft station where children took turns making crafts.  It's always as much fun for us as it is the kids!
From all of us at RATIO, we hope you have some time to re-charge over the holidays and have fun with family and friends!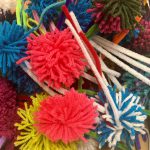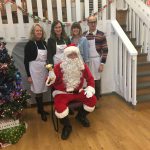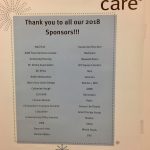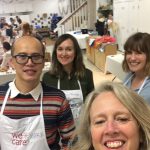 Stay connected with Ratio:  Sign up for  RATIO news >  Twitter >  LinkedIn