Upgraded Coast Guard Base at Kitsilano
The Kitsilano Coast Guard Base demanded both a functional, robust and aesthetic upgrade.  Its landmark setting and significance as the public face of an important government agency required a design approach that enhanced its context on the edge of a large park, adjacent to a busy waterway, and set against high-density residential development.
The building, a recognizable landmark, on the North East corner of Kits Point and in the shadow of the Burrard Bridge, required a complete building envelope retrofit. RATIO worked closely with a team of building envelope consultants to ensure both energy targets and critical envelope detailing was implemented. The team developed a design that combined a new high-quality cladding & insulation system meeting the latest technical standards, with a contemporary aesthetic for its high visibility siting.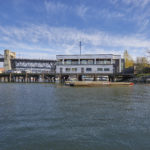 Addressing the exposed marine setting
Perched above a marina, the building is fully exposed on three sides.  Careful consideration was given to the suitability of each building component for this challenging location: long-lasting composite and zinc-accented rainscreen cladding, high-performance curtainwall glazing, and insulation & membranes will overcome changeable marine weather conditions.
RATIO's design plan will replace an aged face-sealed metal composite panel system with a contemporary fibre cement composite rainscreen system. This provides a significant update to the building's weather-shedding and energy performance meeting prescribed energy targets for the building.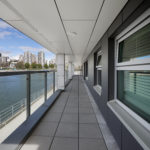 Our Approach
We collaborated with the Fisheries & Oceans Canada at each stage of the design process to meet the technical requirements and design expectations. Regularly scheduled coordination meetings with all stakeholders resulted in common understanding through collaboration and communication. RATIO paid careful attention to maximizing project value while maintaining the highest standards in building envelope design for the given marine location.
More: Kitsilano Coast Guard Station project page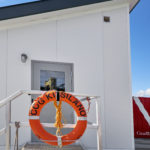 RATIO has worked on infrastructure projects around British Columbia from border crossings to water pump buildings, community centres and public safety buildings.
Stay connected with Ratio:  Sign up for  RATIO news >  Twitter >  LinkedIn